Drainage Repair and Upgrades
Have Drainage Questions | We Can Help
For Clients in need of drainage repairs Groundforce can assist with all phases of drainage repairs and upgrades. We work on a wide range of large-scale Residential, Commercial, and Government geotech construction projects.
Groundforce is a highly skilled team knowledgeable in the many aspects of drain construction. Contact us if you need a professional consultation for your drain project.
Groundforce Drain Services
Hydro-Augers
Waterproofing Repairs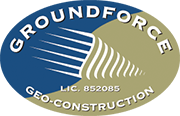 Groundforce LIC# 852085 Geotech and Geo Construction Services for San Diego, Orange County, Los Angeles, Riverside, and Southern California.
CONTACT US
GROUNDFORCE
1220 PRESIOCA ST.
SPRING VALLEY, CA 91977
Phone: 888-290-6574
Fax: 858-560-8960
Email: info@groundforcecrew.com