WELCOME TO GROUNDFORCE!
GroundForce is a family owned business founded in 2004 by Dave Hoffman and consists of a talented group of Tradesmen, Superintendents and Project Managers averaging over 20 years experience in all phases of Geo Construction and General Engineering. GroundForce has always believed that the demand for ethical and honest contractors – who truly value their clients – is strong. This customer centered project approach is validated by past clients and the Engineering community who are responsible for referring over 90% of GroundForce's new customers.
---
GroundForce has many years of experience and our highly skilled team can deliver the highest quality of geotech construction.
We are committed to establishing and maintaining an organization devoted to:
Optimal Risk management at all times for both the client and ourselves

Adhering to the highest levels of quality control at all times

Being proactive in our work and communicative with our Clients

Using the most accurate and exacting standards of estimating, Job cost/Productivity tracking/reporting and project management

Building a staff of Safe, Skilled and Efficient people in both the field and the office

Providing the right and most productive Equipment and Construction Means/method and materials

Providing clear and exact project documentation to our clients

Presenting Positive and Comprehensive Packaged Solutions to our Clients including complete Design/Build Services when requested or required.
Have Geo Construction Questions | We Can Help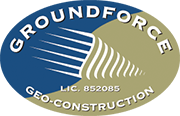 GroundForce Geo Construction Services And Solutions
OUR PROJECT DELIVERY METHODS
Bid / Build
Design / Build
Design / Assist
Our clients have included Homeowners, Home Builders, Developers, Insurance Companies, Alternative Energy, Law Firms, Construction Managers, Public Agencies, Homeowners' Associations, General Contractors and the US Military.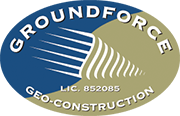 Groundforce LIC# 852085 Geotech and Geo Construction Services for San Diego, Orange County, Los Angeles, Riverside, and Southern California.
CONTACT US
GROUNDFORCE
1220 PRESIOCA ST.
SPRING VALLEY, CA 91977
Phone: 888-290-6574
Fax: 858-560-8960
Email: info@groundforcecrew.com