WHY CHOOSE GROUNDEFORCE
---
During this time, I found each of the team members to be effective communicators who were able to work cooperatively and efficiently and I was extremely impressed with Mr. Hoffman's liaison amongst all of the Civil engineers, Soil Mechanics and the very capable Sub-contractors who also worked on our projects. In addition he has a great rapport with the City of Carlsbad's city officials.
Slope Stabilization Client
---
It would be my pleasure to invite Groundforce to any future projects. We do not have any hesitation in recommending Groundforce to any potential customers."–
Landslide Stabilization and Underground Utility Client
---
"It has been my pleasure to have worked with Groundforce led by Mr. Dave Hoffman over the past few years on three projects. As a team, I have had the pleasure of working personally with Dave Hoffman and his on-site supervisors Ramon Castanares and Frank Romano.
Landslide Stabilization Client
---
"I wanted to let you know that your crew has done a great job not only to the slope repairs but also to minimize landscape damage, keeping the work area clean before they leave for the day etc. They have been very polite to all the homeowners that have had concerns and questions. I have received many compliments from the homeowners on the professionalism of your crew"
Slope Repair Client
Groundforce LIC# 852085 Foundation Support Design-Build Services for Southern California cities San Diego, Orange County, Los Angeles, Riverside. Groundforce also works with national clients on commercial and government foundation projects.
Our approach and expertise is validated by past clients and the contractor/construction community who are responsible for referring over 90% of Groundforce's new customers.
Have Geo Construction Questions | We Can Help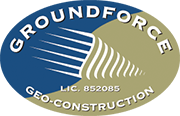 GROUNDFORCE
1220 PRESIOCA ST.
SPRING VALLEY, CA 91977
Phone: 888-290-6574
Fax: 858-560-8960
Email: [email protected]