Slope Stabilization And Structural Reinforcement
Serving Orange and Riverside Counties - San Bernardino - Los Angeles - Long Beach
Ground Force Geo Tech Construction and Earth Retention Contractors
Have Questions or Need A Quote Relating To Shotcrete Applications
Contact Us. We Can Help. Tell Us About Your Project.
Shotcrete Applications And Projects
Ground Force is a design / build geotechnical contractor delivering optimal risk management while presenting positive and comprehensive packaged solutions to extremely technical large scale projects performed to the highest standards and levels of quality control.
Shotcrete Services
Channels and Canals Lining

Concrete Basins

Shotcrete Structural Walls

Earth Retention Systems

Slope Protection and Stabilization

Repair And Restoration
We have extensive experience working with large scale commercial and government projects deploying the most accurate and exacting standards of estimating:
Job Cost / Productivity
Tracking / Reporting
Project Management
The shotcrete process is truly one of the most versatile processes available for the use of concrete in both new construction and repairs. Shotcrete can be used in almost any concrete project and is highly effective administering to functional and creative construction for endless possibilities. Shotcrete typically results in a significant savings of time and money.
Earth Retention And Wall Project Excerpts From Our Blog
OUR PROJECT DELIVERY METHODS
Bid / Build
Design / Build
Design / Assist
Our clients have included Homeowners, Home Builders, Developers, Insurance Companies, Alternative Energy, Law Firms, Construction Managers, Public Agencies, Homeowners' Associations, General Contractors and the US Military.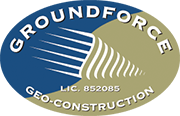 Groundforce LIC# 852085 Geotech and Geo Construction Services for San Diego, Orange County, Los Angeles, Riverside, and Southern California.
CONTACT US
GROUNDFORCE
1220 PRESIOCA ST.
SPRING VALLEY, CA 91977
Phone: 888-290-6574
Fax: 858-560-8960
Email: info@groundforcecrew.com