SLOPE/LANDSLIDE STABILIZATION
La Jolla, CA – Slope repair work included Grading work (10,800 Cubic yards), Caissons (48 caissons for slope stability with 36-inch diameters and 56 feet deep), foundation underpinning of houses above the slope and site drainage repairs.
Rancho Santa Fe, CA – A turnkey Slope stabilization behind an estate home. Work included Tie Back Shoring wall (36 tie backs with 200 kip loads) to provide support to the house and swimming pool above the slope, Storm and site drainage, 12,000 cubic yards of grading and re-vegetation of the site.
Oceanside, CA – A Landslide repair to a slope that undermined 4 houses and a swimming pool. Work included Tie Backs (56 Anchors with 300 kip loads) Reinforced Shotcrete (225 Cubic yards), Slope re-grading (14,000 cubic yards), and retaining wall reconstruction.
BUILDING AND FOUNDATION STABILIZATION
 San Diego,  CA – Foundation underpinning work at 7 homes at the end of a cul de sac. Each house was underpinned with cast in place grade beams. The houses were mechanically jacked level with lifts ranging from 3 to 8 inches using a system of hydraulic jacks and sacrificial screw jacks. A total 55,000 lbs of rebar was installed. Approximately 740 cubic yards of concrete was poured, along with placing 65 cubic yards of pressure grout to fill under the lifted slabs.
Coronado, CA – Foundation stabilization construction to provide uplift resistance at a "bathtub" basement. The work included crane placement of the drill rig in the basement during construction, installation of 38 Tie-down anchors using Hollow Bar anchors drilled and grouted to a depth of 44 feet and load tested to 51 kips.
Carlsbad, CA – Micropile and foundation underpinning work on a commercial tilt up building. The building experienced subsidence of the fill soils resulting in floor tilt. The work included construction of 38 Micropiles drilled to depths ranging from 33 to 48 feet. In addition each micropile was capped with a grade beam system to underpin the affected building perimeter foundation.
Groundforce LIC# 852085 Foundation Support Design-Build Services for Southern California cities San Diego, Orange County, Los Angeles, Riverside. Groundforce also works with national clients on commercial and government foundation projects.
Our approach and expertise is validated by past clients and the contractor/construction community who are responsible for referring over 90% of Groundforce's new customers.
Have Geo Construction Questions | We Can Help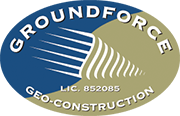 GROUNDFORCE
1220 PRESIOCA ST.
SPRING VALLEY, CA 91977
Phone: 888-290-6574
Fax: 858-560-8960
Email: [email protected]