Earth Retention and Shoring Systems
Ground Force | Commercial Retaining Wall Builders
Serving Orange and Riverside Counties - San Bernardino - Los Angeles - Long Beach
Ground Force is a Geotech construction contractor exercising extensive experience in large scale commercial / government wall build projects and earth retention systems. Ground Force applies professional expertise with a full range of techniques to provide optimal earth retention and shoring solutions to your commercial or industrial project.
Retaining Wall Solutions
Soldier Pile Walls  -  Sheet Piling  -   Bulkheads  -  Gabion Walls
Our clients have included Homeowners, Home Builders, Insurance Companies, Law Firms, Construction Managers, Public Agencies, Homeowners' Associations, General Contractors and the US Military.
A commitment to client satisfaction is our trademark. Our mission is to make each of our customers feel that they hired the right contractor on each job we complete. As a result of this commitment over 90% of our clients come to us by referral and because of our reputation for accountability, thoroughness and quality.
Have Questions or Need A Quote About Large Scale Wall Build Projects
Contact Us. We Can Help. Tell Us About Your Project.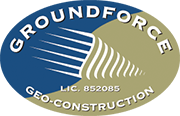 Groundforce LIC# 852085 Geotech and Geo Construction Services for San Diego, Orange County, Los Angeles, Riverside, and Southern California.
CONTACT US
GROUNDFORCE
1220 PRESIOCA ST.
SPRING VALLEY, CA 91977
Phone: 888-290-6574
Fax: 858-560-8960
Email: [email protected]