Pressure Grouting – Foundation/Sinkhole Repair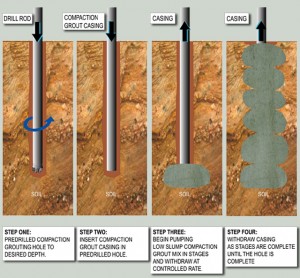 Pressure Grouting is a cost effective technique for the re-compaction and stabilization of geomaterials, (soil and rock). Instances and soil conditions under going this application include poorly compacted fill, loose soils, the infiltration of water, or a failure to properly excavate and re-compact a building site.
It involves the injection of a low slump grout into the soils at or above the limestone layer in order to seal the collapsed or eroded limestone. It fills voids and increases the density of soils for the purpose of increasing bearing capacity or decreasing settlement potential. It is an extremely flexible solution to foundation leveling, floor leveling, basement leveling, and home leveling since different tools and methods can be chosen depending on a number of things. Such as the size of the structure that needs stabilization to the area of the soil where pressure grouting needs application.
Applications & Sinkhole Repair
Pressure grouting methods and techniques are often performed to stabilize soils in areas that geotechnical engineers have discovered to have sinkhole conditions. A geological engineer will use specialized equipment to determine the nature and extent of the sinkhole event.  Once this is accomplished, the engineer develops a plan to stabilize and restore the structure. In many cases grouting of some kind will be pumped under pressure to fill voids and compact soil with rocklike material.  This process will be carried out through various techniques of injection grouting that are appropriate to the situation.
Depending on the geological conditions surrounding the sinkhole, many different geotechnical approaches could be called upon.  But in every case, the goal is to find or create a solid support underneath whatever is on the surface, including ground cover, homes, or buildings.
---
Although widely applicable, there are some standard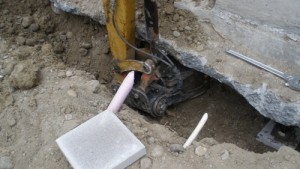 factors that may lead to the use of pressure grouting:
Does your home or property need to be releveled?

Does the ground beneath your settling structure need to be improved?

Are there rock cracks that need to be filled?

Do footing soils need to be densified?
Procedure
(Step 1) Hole is drilled or casing is driven to bottom of proposed treatment zone.

(Step 2) Compaction grout is then pumped through the casing until one of several refusal criteria have been reached.

(Step 3) Casing is lifted to the next stage and Steps 1 & 2 are repeated.
Advantages of Pressure Grouting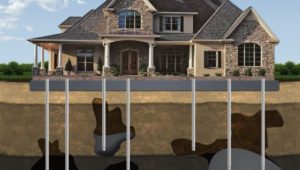 Precise treatment

Fast installation

Can be performed in very tight access and low headroom

No waste soil disposal

Wide applications range

Non‐destructive and adaptable to existing foundations

Economic alternative to removal and replacement or piling

Time tested and proven
---
As a full service Contractor
Groundforce 

performs a wide variety of foundation repair and stabilization services for Residential and Commercial Clients in – 

San Diego, Los Angeles, Riverside, Orange County and most of Southern California.
---
CONTACT US
---
GROUNDFORCE
1220 PRESIOCA ST.
SPRING VALLEY, CA 91977
---
Phone: 888-290-6574
Fax: 858-560-8960
Email: [email protected]