Caissons and Grade Beams – Foundation Repair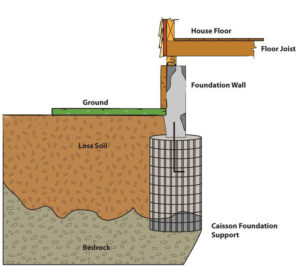 Caissons and grade beams, are foundation support systems capable of supporting high, concentrated loads. They are typically used to set piers for bridges, underpasses,  tall concentrated loads, and structural passes. But they are also an important solution for hillside home stabilization, or to support retaining walls. They are often the perfect way to protect your property when other foundation systems are inadequate.
What are Caissons and grade beams?
Caissons and grade beams are foundation support systems constructed by placing fresh concrete and reinforced steel (rebar) into deep, drilled shaft holes of predetermined diameters and depths. The holes are drilled through soil and rock to the desired bearing stratum or bedrock. Caisson structures are essential when constructing anything on top of high moisture soil or weak soils. They are a great solution to improve a structures strength, especially for buildings which are dated and can benefit from stabilization.
---
Advantages of caissons
Minimizes pile cap needs

Less noise and reduced vibrations

Easily adaptable to varying site conditions

High axial and lateral loading capacity

Ideal where small footprint is desirable

Ideal for sites with restricted access or low headroom

Best possible repair option for foundation stabilization

Addresses all loads

Strengthens footing to resist heavier loads

Widely accepted across Geotechnical and Civil Engineering fields, as well as all jurisdictions for permitting purposes
---
How Do I Know If My Home or Property Needs Caissons?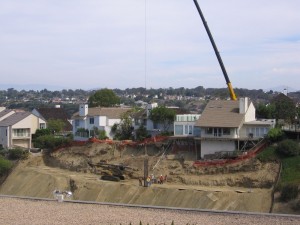 Properties that are located on soil that is unstable due to sloping or due to the presence of excessive water in the soil (If a river is nearby) need caissons to reinforce the base of the building. Homes that have  already been built on hillsides need caissons for foundation remediation. Such land areas do not support the traditional ways of constructing a foundation by placing brick and mortar over a surface of soil. This type of foundation will not support the building as structures on hillsides normally stand angularly on a slope. With such traditional foundations, there is a chance that the structure may start to slide off the slope.
The best way to determine if your home/building needs the support of caissons is to call an expert to do a thorough inspection of your home.
---
As a full service Contractor
Groundforce

 performs a wide variety of foundation repair services for  

San Diego, Los Angeles, Riverside, Orange County and Southern California.
CONTACT US
---
GROUNDFORCE
1220 PRESIOCA ST.
SPRING VALLEY, CA 91977
---
Phone: 888-290-6574
Fax: 858-560-8960
Email: [email protected]