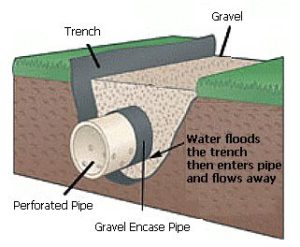 When to Consider a French Drain
If experiencing problems with surface water, such as a soggy lawn or a roadway that washes out.

If water is getting into basements or below ground facilities.

To prevent water from building up behind a

retaining wall

on a hillside and undermining it.
---
A french drain is primarily used to prevent ground and surface water from penetrating or damaging building foundations. It is a trench filled with gravel or rock containing a perforated pipe that redirects surface water and ground water away from an area. French drains may also be used to distribute water, such as a septic drain field at the outlet of a typical septic tank sewage treatment system.
---
French drains are often installed around a building foundation in two different ways:
Buried around the foundation wall on the external side of the foundation

Installed underneath the below ground floors on the inside perimeter
---
Groundforce

 
can answer all your questions and give you the highest quality of workmanship for french drain considerations.
Contact us if you need a professional consultation for your drain project. Servicing

 
–  San Diego, Riverside County, Orange County, Los Angeles and most of Southern California.

---
CONTACT US
---
GROUNDFORCE CREW
1220 Presioca St.
Spring Valley, CA 91977
---
Phone: 888-290-6574
Fax: 858-560-8960
Email: info@groundforcecrew.com