Seawall Construction And Sea Erosion Repair
Ground Force |  Shoreline Protection and Erosion Control Structures
Serving Orange and Riverside Counties - San Bernardino - Los Angeles - Long Beach
Groundforce has completed Seawall Repair and Construction Projects throughout San Diego, Los Angeles, and other Southern California beach regions. Our expertise and experience has solved many geotech issues for clients in active tidal zones causing erosion and other sea/wave structural damage. Groundforce has constructed and serviced:
Past Seawall Repair Projects From Our Blog
Groundforce LIC# 852085 Geotech and Geo Construction Services for San Diego, Orange County, Los Angeles, Riverside, and Southern California.
Our approach and expertise is validated by past clients and the Engineering community who are responsible for referring over 90% of Groundforce's new customers.
Have Sea Erosion Questions | We Can Help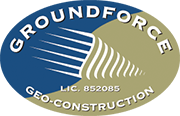 GROUNDFORCE
1220 PRESIOCA ST.
SPRING VALLEY, CA 91977
Phone: 888-290-6574
Fax: 858-560-8960
Email: info@groundforcecrew.com