Site Grading : General Overview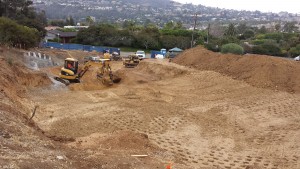 Site grading is the process of adjusting the slope and elevation of the soil around a home or building. It is accomplished with both large machines, such as bulldozers, pans, and dump trucks, and men wielding rakes and shovels.  A good design integrates the natural land forms of the site with the proposed program to create an aesthetically pleasing, yet functional and cost-effective site plan.  Because a grading scheme must consider function and utility, as well as aesthetics, it is both a science and an art.
Successful grading projects often require input from professional engineers or earthwork contractors. These individuals inspect the land to evaluate soil conditions and moisture problems. Using site grading techniques, contractors may add French drains to capture excess moisture around the site/structure and direct it to local storm water channels.
---
The grading of a site serves three basic purposes:
1. Grading re-forms the land surface to make it compatible with the intended land use.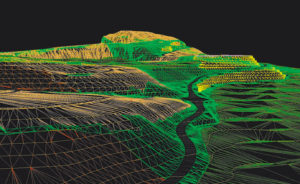 Subsequently, the relative elevations and gradients of streets, buildings, parking areas, and pedestrian/vehicle accesses must be mutually compatible if they are to function as a system. Similarly, they must be compatible with the surrounding existing terrain.
2. Grading establishes and controls the new drainage patterns.  
 The grading design should allow for the efficient collection, conveyance, and detention of storm water run off.
3. Grading helps define the character and aesthetics of the site.
Site design is the foundation upon which many other elements of development depend. Site grading should be appealing to the user and responsive to the opportunities and restraints offered by the site. In this way, property values are enhanced and good site design contributes to the success of a land development project.
---
In addition to site grading

Groundforce

routinely performs all phases of conventional excavation. Groundforce provides these services to Residential, Commercial and Government Agencies as well as to General Contractors and Construction Management Companies.
Servicing : San Diego, Riverside County, Orange County, and Los Angeles.
---
CONTACT US
---
GROUNDFORCE 
1220 Presioca St.
Spring Valley, CA 91977
---
Phone: 888-290-6574
Fax: 858-560-8960
Email: [email protected]
---
Groundforce LIC# 852085 Geo-Construction and Excavation related services for San Diego, Los Angeles, and Southern California.