Underpinning – Foundation Repair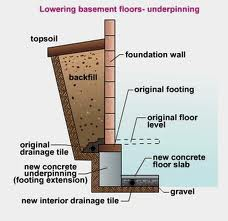 Underpinning is the process of modifying an existing foundation system by extending it to or into subsurface strata that is deeper and more stable than the near surface soil that supports the existing foundation system. This is done to provide vertical support that is not present in the existing design. Methods of base support include the construction of footings, stem walls, driven piling or drilled piers.
There are several existing conditions which may lead to the need for Foundation Stabilization
Construction of a new project with a deeper foundation adjacent to an existing building 
Change in use of a structure
Addition of a basement below an existing structure 
Construction of structures on unsuitable bearing material or over compressible layer (peat, organic silts, or poorly compacted backfill) may cause settlement
Settlement of an existing structure    
Settlement of existing structures in many cases is caused by lowering of the water table due to tidal fluctuations, wells for a water district, etc. This lowering of the water table can cause the tops of timber piles to decay over time and will require remedial underpinning.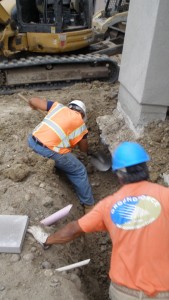 Determining the Need for Underpinning 
When a structure starts to show signs of settlement or distress, it is of the utmost importance to establish level readings and offset readings by a professional on a daily, weekly, or monthly basis, depending on the severity of the movements.   One visible sign that your building needs stabilization is when cracks are evident. A building needs underpinning of its foundation when cracks are wider than ¼ inch, especially diagonal cracks and there are noticeable signs of a faulty foundation.  Foundation failures could also be considered as heaved foundations, cracked or buckled walls and cracked concrete floors.
---
As a full service Geo Contractor
Groundforce

performs a wide variety of foundation repairs including

pipe piles

,

micropiles

, 

helical piers

, caissons, tie-down anchors and grouting servicing  – 

San Diego, Riverside County, Orange County, and Los Angeles.
---
CONTACT US
---
GROUNDFORCE CREW
1220 Presioca St.
Spring Valley, CA 91977
---
Phone: 888-290-6574
Fax: 858-560-8960
Email: [email protected]